Gibson 2018 Lineup Revealed!
/
February 13th, 2020
/
There are currently 0 comments
The Gibson 2018 USA range is here! It's a streamlined collection and the focus this year seems to be more on old-school, more traditional guitars with a classic spec. However, if you do want a modern Gibson, packed with the latest features and technology, there are still options. The Gibson 2018 collection consists of Les Pauls, SGs, Firebirds, an Explorer and a Flying V. This year, only the Les Paul Standard and SG Standard will be available as High Performance models.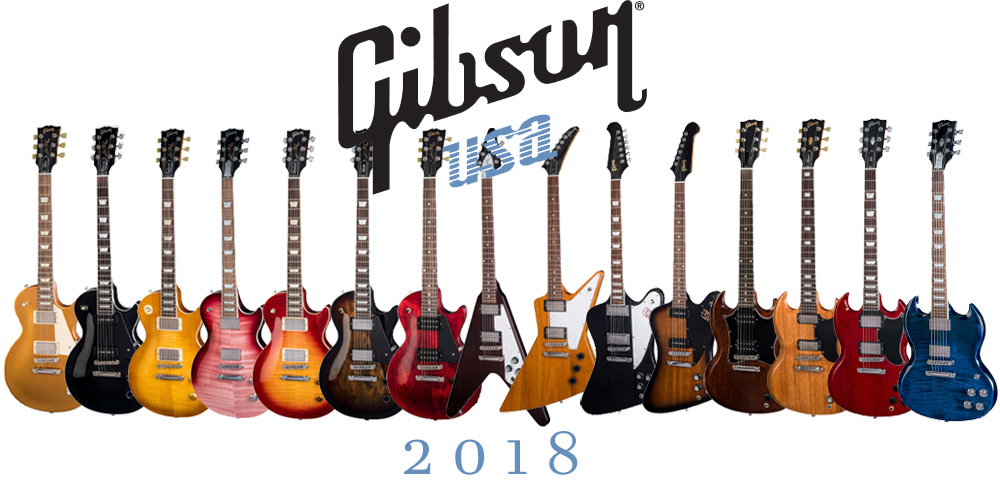 These new Gibson 2018 models give you a huge choice, with each individual guitar giving players something different. Every time you go up in terms of price, it's clear where that extra money is going. What all these guitars have in common is that they're all American built Gibsons, made to a very high standard. Whether you're a beginner or a pro, these new 2018 Gibsons are guitars that will perform consistently night after night, and will last for years to come. It also doesn't matter what style of music you're into – one of the guitars in the Gibson 2018 range is going to have the right feel and the right sound for you.
Browse all Gibson 2018 models
As we predicted, there are some lovely, vibrant new colours – Hot Pink Fade and Cobalt being just two. Also, all the guitars in the 2018 range benefit from cryogenically treated frets – this will mean they stand up to fretwear better. Each guitar will come with either a hardcase or a softcase (the softcase is a brand new design). The High Performance Les Paul Standard and SG Standard have an updated G-Force system that tunes your guitar faster than ever, as well as an adjustable titanium nut and titanium saddles.
Here are the Gibson 2018 models available:
– 490R/490T Pickups
– Slim Taper neck profile
– Ultra Modern weight relief
– Rosewood fingerboard
– Comes with gigbag
Shop Les Paul Fadeds
– 490R/489T pickups
– Slim Taper neck profile
– No weight relief
– Rosewood fingerboard
– Comes with gigbag
Shop Les Paul Tributes
– 57 Classic/57 Classic+ pickups (with coiltap)
– Slim Taper neck profile
– Ultra Modern weight relief
– Rosewood fingerboard
– Bound neck
– Comes with hardcase
Shop Les Paul Studios
– P90 pickups
– Orange Drop capacitors
– Slim Taper neck profile
– No weight relief
– Rosewood fingerboard
– Comes with hardcase
Shop Les Paul Classics
– BB1/BB2 pickups
– Orange Drop capacitors
– Rounded neck profile
– No weight relief
– Rosewood fingerboard
– AA figured maple used for top
– Comes with hardcase
Shop Les Paul Traditionals
– BB Pro Rhythm/BB Pro Lead pickups (with coil tap)
– Asymmetrical Slim Taper neck profile
– Ultra Modern weight relief
– Rosewood fingerboard
– AAA figured maple used for top
– Comes with hardcase
Shop Les Paul Standards
– Rhythm Pro/Lead Pro+ pickups
– Asymmetrical Slim Taper neck profile
– Ultra Modern weight relief
– Rosewood fingerboard
– G-Force self-tuning system
– Titanium nut (adjustable) and saddles
– Soloist neck width
– Fast-access neck heel
– AAA+ figured maple used for top
– Comes with aluminium hardcase
Shop Les Paul Standard HPs
SG Faded
– 490R/490T Pickups
– Slim Taper neck profile
– Solid mahogany body
– Rosewood fingerboard
– Comes with gigbag
Shop SG Faded
– Mini humbuckers
– Slim Taper neck profile
– 24 frets
– Solid mahogany body
– Rosewood fingerboard
– Comes with gigbag
Shop SG Specials
– 61R/61T pickups
– Slim Taper neck profile
– Solid mahogany body
– Rosewood fingerboard
– Comes with hardcase
Shop SG Standards
– 57 Classic/Super 57 Classic pickups
– Slim Taper neck profile
– 24 frets
– Solid mahogany body with AA figured maple top
– Rosewood fingerboard
– G-Force self-tuning system
– Titanium nut (adjustable) and saddles
– Soloist neck width
– Fast-access neck heel
– Comes with aluminium hardcase
Shop SG Standard HPs
Firebird
– Mini humbuckers
– Slim Taper neck profile, neck through body construction
– Torrefied Granadillo fingerboard
– Comes with hardcase
– Solid mahogany body
Shop Firebird
Firebird Studio
– P90 pickups
– Slim Taper neck profile
– Torrefied Granadillo fingerboard
– Comes with hardcase
– Solid mahogany body
Shop Firebird Studio
Explorer
– BB2/BB3 pickups
– Slim Taper neck profile
– Torrefied Granadillo fingerboard
– Comes with hardcase
– Solid mahogany body
Shop Explorer
Flying V
– BB2/BB3 pickups
– Slim Taper neck profile
– Torrefied Granadillo fingerboard
– Comes with hardcase
– Solid mahogany body
Shop Flying V