New Kawai CA98 & CA78 Pianos With Onkyo Collaboration
/
February 13th, 2020
/
There are currently 0 comments
There's certainly no shortage of new keys products being announced this autumn. Kawai have released details for two new Concert Artist series pianos – the CA98 and the CA78, both of which are set to replace the CA97. Both models have been made in collaboration with tech giants, Onkyo and feature a new and improved piano sound engine, premium quality components and power amplifiers, Bluetooth connectivity and an incredible looking touchscreen interface.
Improved Piano Sound Engine
Both the flagship Kawai CA98, and the CA78 have a new piano sound engine on board that provides the most authentic piano sound, and playing experience that they have made yet. The instruments have two settings – Pianist Mode and . The former boasts this new sound engine and is all about giving you the best possible piano sound. If you want other sounds, simply switch over the Sound Mode. For Pianist Mode, Kawai have sampled their SK-EX concert grand from multiple points so that all sound sources of the piano are captured, giving a more immersive piano sound than just stereo sampling. This in turn, allows you to play more expressively and with greater dynamics.
All the natural resonance of the SK-EX is captured in the CA98 and CA78 too. All the subtle nuances you'd get from playing an acoustic concert grand – hammer noise, extra harmonics, damper and key-off noises etc are calculated in real-time when you play the instrument. What does this mean? Basically, the sound you get feels more like it's coming from an acoustic grand piano – ideal if you're used to playing on an acoustic in lessons, or at an exam. This new Pianist Mode is great for those who regularly play acoustic pianos as the sound is very, very close.
Onkyo Premium Audio Components
Onkyo make some incredible audio equipment, particularly home speaker systems. Kawai have enlisted their expertise to help with the electronics side of things on the CA98 and CA78. By putting Onkyo's premium quality components in these new pianos, Kawai have improved the sound quality. It's a bit like upgrading from a HD TV to a 4K one. These components help preserve the organic and harmonic character of the piano. Onkyo power amplifiers also give you a richer sound, better dynamics and less unwanted distortion, both with, and without headphones.
Speaker System (The Main Difference Between the CA98 and CA78)
The flagship CA98 has an incredible 135W speaker system comprising of four top speakers, two dome tweeters, all designed with Onkyo, plus their new TwinDrive Soundboard speaker. Having a spruce soundboard acting as a speaker gives you the sound from the same area as an acoustic, and also transfers bass and mid frequencies extremely well. This new soundboard speakers system gives you more volume and power, but also allows you to play with greater shades of quiet and loud – something that you'll do in the later piano grades.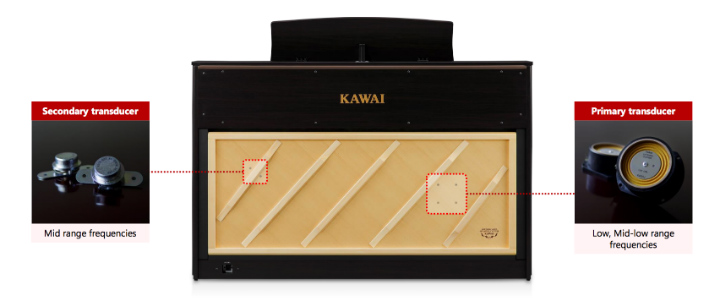 The CA78 has two woofers, two mid-range speakers, and two tweeters, totalling 100W of power.
Touchscreen Interface
More and more manufacturers have been integrating touchscreen technology into their instruments but this looks fairly unique. The Kawai CA98 and CA78 are controlled entirely by a 5" colour touchscreen interface to the left of the keys. It's a clever, intuitive and user-friendly design that switches itself off when not in use. For those used to using a smartphone everyday, this will be instantly familiar.
We're hoping to see some of the new Kawai CA98s and CA78s before the end of the year. Both will include our exclusive free home delivery and installation carried out by our own in-house piano team. For more information on these or any other pianos, please don't hesitate to get in touch with us.
Kawai CA78
Kawai CA98