New PRS SE 2018 Models!
by Richard Blenkinsop. Posted on 2017-11-08 15:35:29
PRS have unveiled their new range of SE guitars ahead of January's NAMM show. Personal highlights include the Multi-Foil finish Standard 24, Custom 24 Left Handed (finally!) and the SE SVN seven-string.
The PRS SE series guitars are manufactured in Korea and Indonesia, and present players with a more affordable alternative to the S2 and Core line ranges. Last year, the SE series saw some pretty big changes; namely the introduction of the incredible 85/15 "S" humbucking pickups. These are based on the pickups fitted in the £3k+ Core line guitars and feature largely in the 2018 range too.
So, what's included in the 2018 PRS SE range? Well, you've still got your usual culprits: Custom 24 (with and without Floyd Rose), Custom 22, Custom 22 Semi-Hollow, 277s, signature models and SE245. What's new is the SE SVN seven-string, Black Stone Cherry Burst Chris Robinson signature model, a left handed Custom 24 and the reintroduction of the even more affordable SE Standard series, which now also features 85/15 "S" pickups and body and fretboard binding. Here are the new models:
Southpaws have been calling out for a left handed PRS SE and now we have one. The Custom 24 was the first guitar that Paul Reed Smith made in the 80s and to this day remains their most well-known model.
You might remember some exotic top limited run SEs from earlier this year. Now, the zebrawood and spalt maple topped Custom 24s will be available all year round, with a new, beautiful Vintage Sunburst finish.
SE SVN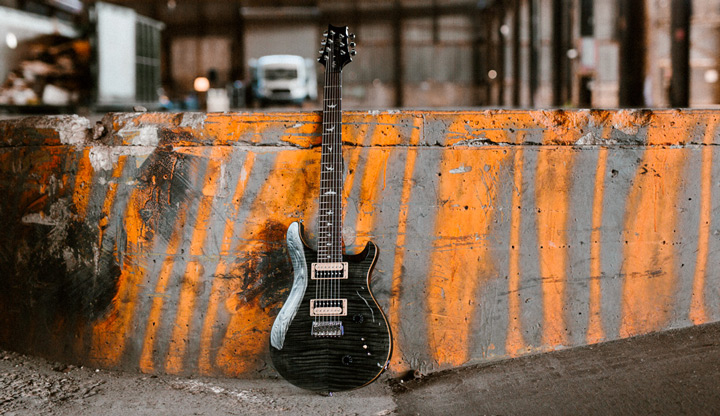 This seven-string PRS SE boasts a slightly adapted pair of 85/15 "S" humbuckers so you get a nice, tight, bass response, as well as sparkly trebles and punchy mids. It's also got a slightly extended 26.5" scale length.
Not to everyone's taste, granted, the entirely mahogany Standard 24 Multi-Foil is a really eye-catching guitar. It's based on a finish that PRS made in the 1980s (which go for big money now). Unlike the other Standard models, this one's made in Korea and comes with a gigbag.
The SE Standard 24 has been upgraded from a few years ago to feature the amazing 85/15 "S" pickups. These, combined with a mahogany body make for a big, beefy sounding guitar capable of any style of music. Similarly, the SE245 Standard has upgraded pickups too(245 "S"), and a bound body and bound fretboard - exceptional value for money.
By Richard Blenkinsop for Reidys. Posted on 2017-11-08 15:35:29