Taylor News: 362ce & 352ce 12 String Models, Florentine Cutaway & Sunburst 800 & 900s
by Richard Blenkinsop. Posted on 2017-08-15 12:43:19
Taylor have announced two new Grand Concert 12-fret, 12-string guitars - the Taylor 352ce and the Taylor 362ce. They've also said that all Grand Symphony cutaway guitars in the 500 series and above will now feature a Florentine cutaway. Lastly, all 800 and 900 series guitars with the classic rosewood/spruce combo will now be available in a sunburst finish.
Taylor 362ce & 352ce
The announcement of these small-bodied 12 strings follows on from the success of 2016's 562ce and 552ce, both of which proved to be very popular. The Taylor 352ce is made from a solid sitka spruce top with solid sapele back and sides, and the 362ce is made from a solid mahogany top with solid Tasmanian blackwood back and sides.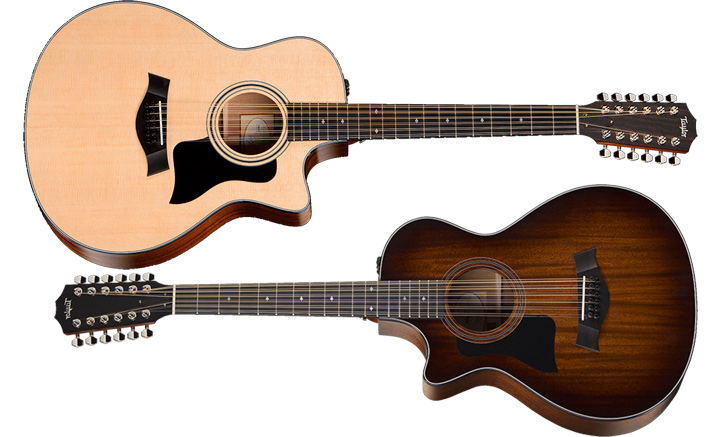 Both guitars have a fairly small body, compared to many other 12-string guitars on the market. This makes for a comfortable guitar, for players of any stature. Also the 24 7/8" scale length combined with the 12 fret neck join gives the guitar a slinkier feel than many other 12-string guitars. Taylor are renowned for making guitars with superb playability and the 352ce and 362ce are easy-playing and set up from the factory with a really good action.
Though both the 352ce and 362ce are the same body shape with the same dimensions, the two wood combinations lead to two different sounding guitars. The 352ce with its spruce top and sapele back and sides is brighter sounding than its mahogany/blackwood counterpart. It will be a touch more articulate too, whereas the 362ce will be warmer sounding, with a smooth response. Both guitars have Taylor's ES2 pickup system on board.
Grand Symphony Florentine Cutaway and Sunburst Option on 800 and 900 Series
In the near future, all Grand Symphony ce models will have the sharper, Florentine style cutaway. Visually, it's quite a bold statement and will match nicely with the dimensions of the large body - it will also showcase Taylor's incredible skill at working with wood to create guitars that not only sound incredible, but look beautiful too.

We've seen the sunburst finish on a few Taylor guitars and they look great. It's a classic look and some players are always going to want it. Now, alongside the regular natural look, 800 and 900 series Taylor guitars with the rosewood/spruce wood combination will be available in sunburst. It's a hand-sprayed paint job and doesn't add to the thicken of the overall finish, allowing the guitar to resonate as much as possible.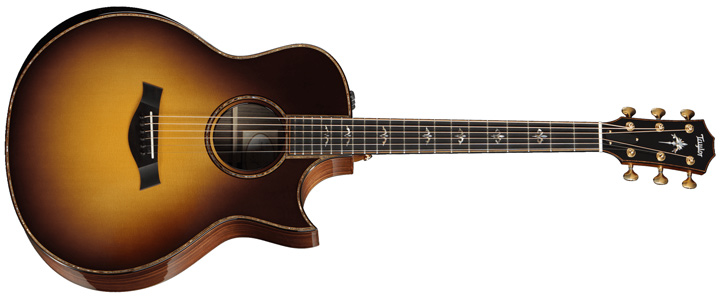 By Richard Blenkinsop for Reidys. Posted on 2017-08-15 12:43:19